I have a brand new guest on my blog today - author of sexy, sophisticated, humorous fiction for women - Tracie Banister! And while Tracie is here at the House of Baggot, she is hosting me over at Books by Banister. Read more about Tracie and her latest book below, then hop over to her website and check me out there http://traciebanister.blogspot.co.uk/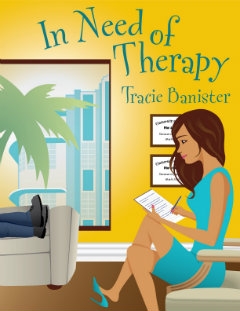 Tracie's latest novel is In Need of Therapy and here is the blurb to tease and tempt you!
Lending a sympathetic ear and dispensing sage words of advice is all part of the job for psychologist Pilar Alvarez, and she's everything a good therapist should be: warm, compassionate, supportive. She listens, she cares, and she has all the answers, but how's the woman everyone turns to in their hour of need supposed to cope when her own life starts to fall apart?
While working hard to make a success of her recently-opened practice in trendy South Beach, Pilar must also find time to cater to the demands of her boisterous Cuban family, which includes younger sister Izzy, an unemployed, navel-pierced wild child who can't stay out of trouble, and their mother, a beauty queen turned drama queen who's equally obsessed with her fading looks and getting Pilar married before it's "too late." Although she'd like to oblige her mother and make a permanent love connection, Pilar's romantic prospects look grim. Her cheating ex, who swears that he's reformed, is stalking her. A hunky, but strictly off-limits, patient with bad-boy appeal and intimacy issues is making passes. And the sexy shrink in the suite across the hall has a gold band on his left ring finger.
When a series of personal and professional disasters lead Pilar into the arms of one of her unsuitable suitors, she's left shaken, confused, and full of self-doubt. With time running out, she must make sense of her feelings and learn to trust herself again so that she can save her business, her family, and most importantly, her heart.
Where you can find Tracie:
Blog: http://traciebanister.blogspot.com/
Twitter: https://twitter.com/#!/traciebanister
Facebook: http://www.facebook.com/tracie.banister
Purchase In Need of Therapy:
Amazon UK: http://www.amazon.co.uk/In-Need-of-Therapy-ebook/dp/B008N6Z36Y/ref=pd_rhf_gw_p_t_1
Amazon US: http://www.amazon.com/In-Need-of-Therapy-ebook/dp/B008N6Z36Y
Barnes & Noble: http://www.barnesandnoble.com/w/in-need-of-therapy-tracie-banister/1112265620?ean=2940015006889
Tell me about your latest work/work in progress in no more than 30 words
In Need of Therapy tells the story of Miami-based psychologist Pilar Alvarez who's struggling to deal with the demands of her patients, her love life, and her crazy, Cuban family.
Tell me your writing dream
Well, my biggest writing dream has already come true as I've published two books and people are actually reading them! Going forward, I would really love to see one of my books turned into a movie (television or big screen, I don't care!)
Tell me more about you – where do you live? Tell me about your hobbies and what you do in your spare time when you're not writing
Like my favorite fictional heroine, Scarlett O'Hara, I am a Southern belle who lives on the outskirts of Atlanta. I'm addicted to television (I watch everything from Disney shows to Top Chef and think the DVR is the best invention since the wheel.), crossword puzzles (I do 3-5 a day and like to time myself.), and salt and vinegar potato chips (My one junk food weakness.) Animal rights (I have three rescue dogs, two with special needs.) and finding a cure for diabetes (I've been a Type 1 diabetic for over 25 years.) are my two passions.
Tell me what you like to watch on television – are you a soap addict or a fan of period dramas for instance?
I love a good period drama and am waiting with bated breath for the return of Downton Abbey. I can't say that I'm a big soap fan, but I do enjoy a good telenovela if it's subtitled. I will pretty much watch anything as long as it's well-written and/or entertaining. Detective shows (The Mentalist, Castle, Bones), Fantasy (Game of Thrones, True Blood, Once Upon a Time), even Competitive Reality programs (Dancing With the Stars is my fave. I love ballroom dancing so much that I even watch Strictly Come Dancing clips on You Tube!)
Favourite band/singer – have you seen them in concert?
My concert-going days ended a while ago, but I did see a lot of my favorite bands on stage back in the day (The Eagles, Duran Duran, INXS - yes, I'm old! ). My current favorite band is probably Maroon 5.
Favourite genre of fiction and/or favourite novel or author?
I am very eclectic in my reading tastes, so it would be impossible for me to choose just one genre! The common element in all the books I read is that they have romance in them. I must have romance! I enjoy Chick Lit, Paranormal, Historical Romance (esp. Regency), Classic Literature, (Light) Mystery, Steampunk, and I've just recently been getting into the Young Adult genre.
Favorite book of all-time? It's such a cliché, but it's true - Pride and Prejudice by Jane Austen. No one tells a story better than Austen did; she set a very high standard for all female writers.
Quiz
In my novel 'Knowing Me Knowing You' Kate and Joel take part in a relationship contest a bit like 'Mr & Mrs'. I thought it would be fun if you could answer their quick fire questions and readers of the page can make what they will from your answers! Choose one from the following pairs e.g. savoury or sweet based on your gut reaction to the words. Remember its quick fire!
Savoury or Sweet? Savory
Action or relaxation? Action
Up or down? Up
Tea or coffee? Tea (Earl Grey!)
Nightclub or wine bar? Neither
Ferrari or Porsche? Porsche (Red!)
Truth or dare? Truth
Gym or bed? Gym
Flower or tree? Flower
Hot or cold? Cold
Bruce Forsyth or Dick Van Dyke? Dick Van Dyke (I loved him in Mary Poppins!)
Thank you so much for joining me, Tracie and for having me on Books by Banister!
If you're an author who would like a little Lady Baggot exposure on my blog then send me an email [email protected]
Categories: None